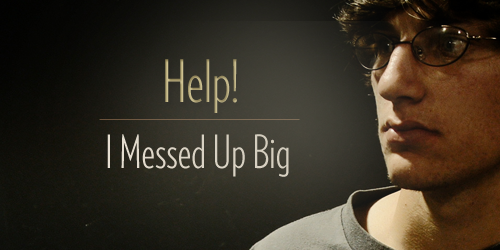 I remember one time I messed up in a big way. My goal in life was to have everyone laugh and think I was funny. So to be funny, I decided to write a note to a guy in the class who got teased a lot. I wrote him a note, and called him some pretty funny names. I wasn't really trying to hurt his feelings, I just wanted my friends to think I was funny.
The teacher found the note being passed around the class. She also figured out that I wrote the note. It was then I started to feel bad, and realized that my actions had really hurt someone else.
I'm sure you've probably made a mistake where you've really hurt someone else. How do you handle things after you've hurt someone? How do you make things right?
Ask Forgiveness

– This is really hard to do. It takes a lot of courage to tell someone what you did was wrong and ask them to forgive you. However, if you do, it will make you feel better, and start the healing process between you and the person affected by your mistake.
"Instead, be kind to each other, tenderhearted, forgiving one another, just as God through Christ has forgiven you." – Eph 4:32 (NLT)

Make Things Right

– In some situations, someone's property might have gotten damaged or hurt by your actions. For example, if you got mad at your brother, and threw his XBOX game across the room and it broke, you would need to buy him a new game. If someone's property was damaged or destroyed by your actions, its your responsibility to make it right. The Bible talks about restoring property in Leviticus 24:18.
"Anyone who kills another person's animal must pay for it in full—a live animal for the animal that was killed." – Lev 24:18 (NLT)

Give it time

– Sometimes, it takes time for a relationship to heal. It might take you some time before your relationship is back to normal between you and the person you hurt. Don't get discouraged if it takes awhile.
When you mess up, it can be really hard on both you and the person that was hurt by your actions. But remember, don't be too hard on yourself. We all make mistakes and sometimes others are hurt in the process. Choose to turn your mistake into an opportunity to learn and grow.
Similar Devotions For Teens