Have you ever left toast in the toaster for too long? Maybe you got distracted and went back to check the toaster only to find that you had burnt the snot out of your toast? The only thing it is good for now is being used as a hockey puck. Burnt toast tastes just plain nasty.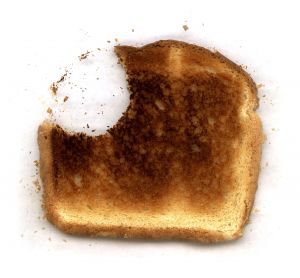 Burnt toast can sort of show us what happens when we die. See, when we die, we go to one of two places: Heaven or Hell. And the choice of where we go is up to us. It's just a matter of choosing Jesus to be your savior or not. For those who don't choose Jesus, they go to hell. Essentially, they become burnt toast.
And there are lots of ideas out there about what hell is like. Some people think its a party and they'll spend all their time hanging out with friends and living the party lifestyle. Unfortunately, they're wrong. Hell isn't a party. Its a horrible place. The Bible describes it like this:
[quote align="center" color="#999999″]…throwing the wicked into the fiery furnace, where there will be weeping and gnashing of teeth" – Matthew 13:50[/quote]
When described this way, hell doesn't sound like a party. It sounds like there's going to be people crying and grinding their teeth together. Totally not the party with friends that people are talking about!
Even though hell is not a fun place, the good news is that you do not have to go there, you don't have to become burnt toast. If you decide to make Jesus the Lord of your life you can spend eternity with Him in heaven. Which will be way more fun! Choose to accept what Jesus did for you and ask Him to be the Lord of your life.
To get started, pray this prayer:
"Father, I come to you in the name of Jesus. I believe that Jesus is your son. I believe that He died on the cross to take the punishment for my sins. I accept Jesus right now as my Lord and savior. I ask Him to come into my heart and to be the Lord of my life. In Jesus' name I pray, Amen.
If you prayed this prayer, and meant it, Jesus is now your savior, the Lord of your life. And you will now go to heaven when you die…so there go the worries about being burnt toast! Your next steps should be getting plugged into a local church that preaches the Bible and also getting your hands on a Bible to begin getting to know this Jesus who is now the Lord or boss of your life!!
 Similar Youth Devotions
[list type="bullet"]
[/list]