"I have told you these things, so that in me you may have peace. In this world you will have trouble. But take heart! I have overcome the world." – John 16:33 (NIV)
Have you noticed how crazy life can get sometimes? Maybe you're concerned about your family gatherings this Christmas. You know that Uncle Henry will probably tell that story about you that is so embarrassing and you just wish that Christmas was already over!
Maybe you're stressed out about finals, or something going on at school. It's true, life gets crazy sometimes. And in the midst of the craziness, how do you keep your calm?
Today's Truth: Jesus Came to Bring Peace to Your Storm
Where do you go in the middle of all the unrest around you? Today's Bible verse helps us out. It shows us that in Jesus we can find peace. Jesus didn't deny that we would have trouble. No. He told us there would be trouble in the world. But in the middle of trouble, we could find peace in Him.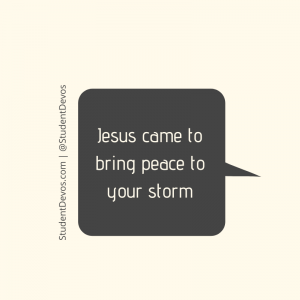 Jesus came to bring peace into your life and into your situation.
What are you going through that is bringing you trouble? Take it to Jesus. Ask Him to show you how to find peace in the middle of all the craziness of life. He won't make your trouble go away, but He will show you a way to go through the midst of it and still have peace in Him.