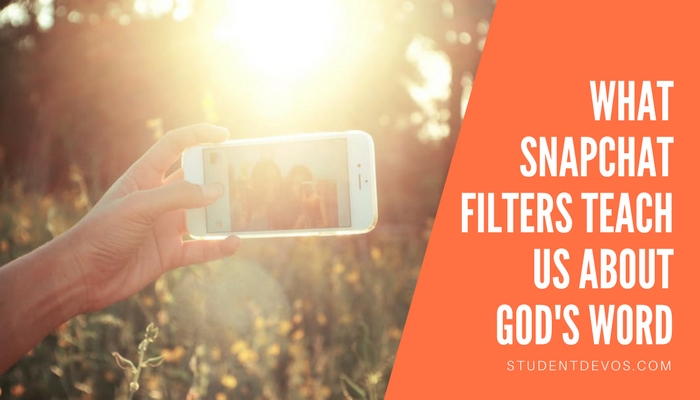 If you're like a lot of teens, you probably love Snapchat. It's there when you wake up each morning. You probably wake up, swipe through your chats, and respond to friends almost immediately. Snapchat is a fun way to  have fun and engage with friends.
One of the interesting features of Snapchat is the filters. Snapchat filters can take the most boring selfie and make it engaging. Whether its face swap or the dog filter, Snapchat filters change the way an image is seen. That's a lot like what God's word can do in our lives if we are open to it. God's word can be a filter for our lives, helping us, guiding us, and showing us truth. So let's look at couple of ways God's word can be a filter for our lives.
Filter One – Perspective.
Have you ever felt confused about a situation going on around you? I remember a time when my family was going through a really tough time. My mom was really depressed and hurt and there were times when I honestly wanted to give up on my relationship with God because things were just so hard.
I remember in one of those moments crying out to God. I didn't know what to do and I questioned my faith in God a lot at that time. As I cried out to God, I felt a scripture come to my mind. I went and looked the scripture up in the Bible and the amazing thing about the scripture was that it was exactly the encouragement I needed in that moment. The scripture I read brought my situation into focus and helped me get some perspective on what I was going through.
Armed with that scripture I was able to stay encouraged and even encourage my mom and others that we would get through this difficult situation. God's word will do the same for you if you'll be open to it. God's word will help bring your situation into perspective in tough times.
Filter Two – Truth
In today's word, there are a lot of voices to listen to. You have friends that might be pulling you in one direction, parents that are pulling you in another, and maybe a teacher that's pulling you in a third direction. With all these different pulls, it can be hard to know what direction is right.
That's where God's Word comes in. God's word will be a filter for your life to show you truth. Regardless of what you hear or see going on around you, God's Word shows you truth.
For the word of God is living and effective and sharper than any double-edged sword, penetrating as far as the separation of soul and spirit, joints and marrow. It is able to judge the ideas and thoughts of the heart. – Hebrews 4:12
Filter Three – Hope
One of the best things about God's word is the hope it brings. Reading God's word brings hope to your life. I remember at times struggling with thoughts of discouragement and even suicide. God's word was the hope I needed to stand in those moments when I thought I couldn't go on.
When all seemed lost, I would open up God's word and read what God said about me. I would read about His great love for me and it gave me the hope and the courage to go on. God's word brought hope to my situation. God's word will do the same in your life if you'll let it.
We have this hope as an anchor for our lives, safe and secure. It enters the inner sanctuary behind the curtain. – Hebrews 6:19
Jesus is the hope for our soul. When all seems lost, when you think you can't go on, holding on to your hope in Jesus will carry you through.
Don't let your day get too busy that you forget to spend some time in God's word. The filters found in God's word are powerful. They can bring you the encouragement you need to get through a tough time. God's word is powerful and if you'll be open to it, God's word can help you out each day with the things you face. So be ready to hear from God through His word, He's ready to show you what you need.
If you're a youth group leader and you liked this devotion, check out the discussion questions for your youth group in our youth leader resource area.