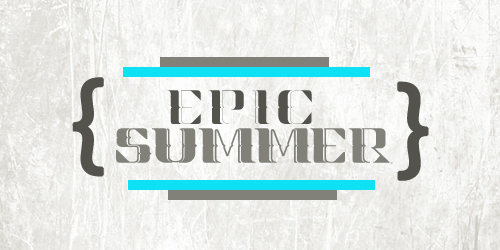 Summer break is in full swing for most students. With all that free time, it can be easy to get bored really fast. So, here's some ways to to make your summer vacation epically awesome!
[list type="bullet"]
Do something crazy

– This doesn't mean jumping off a bridge or risking your life. It means grab a few of your friends and do something out of the ordinary. Fill up a ton of water balloons with pudding and have a really sticky crazy water balloon fight. Or maybe create a scavenger hunt for your friends. Be creative and find something really fun and different you can do this summer with your friends.

Read a Book

– This might seem totally lame, but you can use this summer to read some great books. Find a book on leadership or read to learn something new about God. There's tons of books out there that can challenge you to learn and grow. Here's a few we really like:
[list type="bullet"]

[/list]

Learn something new

– Take your extra time this summer and invest in learning something new. YouTube how to play drums. Ask your grandma to teach you how to sew. Read a self-help book on how to create a website. Find something that you've always wanted to be able to do and learn how to do it this summer.

Get to know God better

– Invest some time this summer into prayer and Bible study. Find a great private place where you can plug your headphones in and worship God to an awesome worship CD. Really invest into getting to know God. Time spent getting to know God is never wasted!

Overcome a Fear

– What's something you're afraid of? Can you overcome it this summer? Can you force yourself to talk to someone you don't know? Can you ride that roller coaster that you've been avoiding because it just looks too scary? Find a fear and decide to overcome it this summer.

Give Back

– Don't make this summer just about you. Find a way to give back. Offer to cut the grass for an older neighbor. Volunteer to help clean at your church. Go on a missions trip this summer. Find a need somewhere and meet it. Give back to those around you. Decide to help others this summer.
[/list]
These are just a few suggestions to making your summer one to remember. If you set your mind to it, you can kick the summer boredom blues and make your summer one that is truly epic!