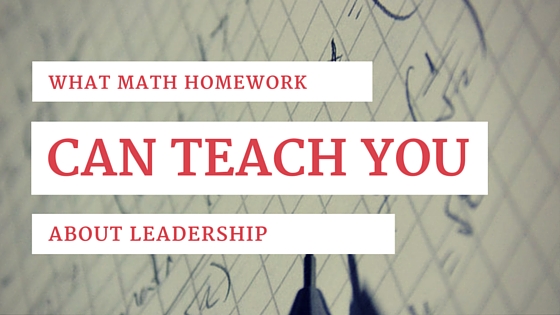 For me, math homework has always been a drag. If I could put off doing it, I would. There is not much that is less fun than doing math homework. However, math homework can teach us some great stuff about leadership.
1. Math homework stinks. It's hard work and to do well in math, you've got to study hard. That's a lot like how leadership is. Leadership requires you to study to be a good leader. Good leadership skills don't develop overnight. It takes study and hard work to become a good leader.
"Leadership and learning are indispensable to each other." -John F. Kennedy
2. Math formulas can help you out. Whether you use the quadratic equation or cosine you can use the predefined formulas to reach the answer you need. In the same way, there are tons of leadership experts who can help provide you with proven formulas for success. Ask around or do a google search there's lots of answers to your leadership questions.
3. Just get started. If you don't start on your homework, you will never finish. The same is true with growing in your leadership skills. You need to get started somewhere. It might be asking your youth group leader to plug you into a leadership position at youth group, or you could look for opportunities to lead at school. Whatever the case, just start stepping out and begin to lead. You'll get better and feel more comfortable as you step out and lead more and more.
Finally, don't let yourself hold back because you think you're too young or that you don't know enough to lead.
"Do not let anyone look down on you because you are young, but be an example for the believers in your speech, your conduct, your love, faith, and purity." – (1 Timothy 4:12 GNT)
Now is the perfect time to start leading. Begin learning about leadership and then don't be afraid to step out and see your leadership skills grow!

PowerPak Collection Series: Leading at School: Leading at School
Kick your leadership skills into high gear with this awesome book on leadership!
Similar Devotions For Teens