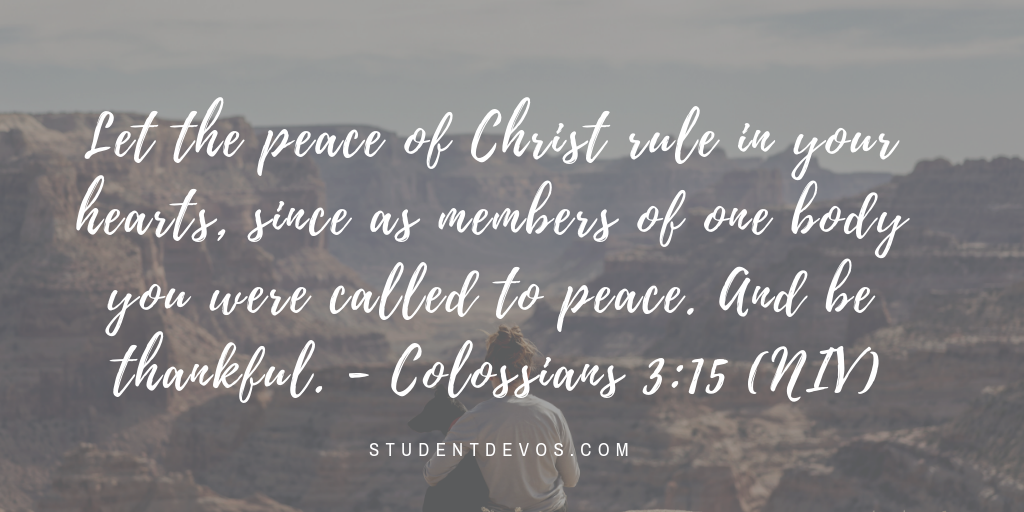 Let the peace of Christ rule in your hearts, since as members of one body you were called to peace. And be thankful. – Colossians 3:15
Big decisions can be scary. Maybe you're finishing up school and you're having to determine a career or college path. It can be really difficult to know what to pick. You may feel overwhelmed and stuck not wanting to make the wrong choice.
Today's Bible verse talks about letting peace rule in your heart. This means that you've got to choose to let peace rule in your heart. You can decide to let the decision-making process be overwhelming and let it consume you to where you're stressed out and fearful. Or you can determine to let the peace of God rule in your heart.
Even when you're uncertain, you can live in peace. You can be confident that God will lead you to the right decision. God doesn't want big decisions to stress you out. He wants to help you, lead you, and guide you to the right path.
So today, if a big decision has you stressed out, take some time to spend with God. Get into His presence. Remind yourself that even in uncertainty, you can choose to be at peace. God will lead you. He wants to speak to you. Just get quiet and learn to listen to His leading.