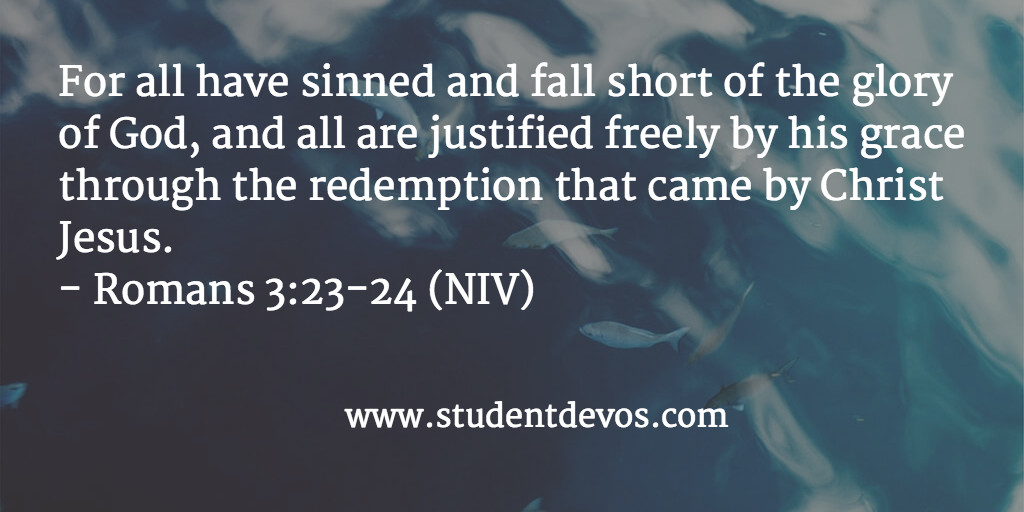 Today's Daily Bible Verse & Devotion is Romans 3:23-24 (NIV)
For all have sinned and fall short of the glory of God, and all are justified freely by his grace through the redemption that came by Christ Jesus.
In order for a person to be saved, they must first acknowledge they are a sinner. No one can get saved if they feel that they are enough on their own or that their good outweigh their bad.
In order to be right in God's sight we need to be at a level of holiness and righteousness that is perfect. This perfection is utterly impossible for any human being to accomplish no matter how hard they might try. The only way this could happen is if God gave us His very own righteousness as a free gift. This is exactly what happened in Jesus. Through Jesus, God brought us back into a perfect relationship with God and gave us His very own righteousness.
The starting place of receiving this gift is to first understand and know that we are first a sinner and are in desperate need of this grace. A true salvation experience is only possible when one knows they are a sinner and they completely throw their trust on Jesus to be saved.