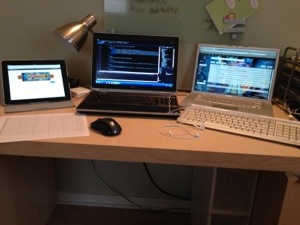 As a teenager, you come across tons of technologies every day. It might be texting a friend or listening to something on your iPod, but more than likely you use tons of technology everyday. We've come up with five great technologies that we believe every teenager should embrace.
You Version– this is an awesome online Bible resource. It comes packed with tons of features. For example, it offers apps for many of the popular phone and music players, allowing you to take the Bible with you wherever you go! Other cool features include tons of great Bible reading plans, listening to the Bible being read to you, and lots of great Bible translations. You Version is a must have for teens!
eSword– this is available for download on PC. eSword offers you the chance to really dig into scripture. It offers multiple translations, dictionaries, concordances, and commentaries. That might sound super dull, but I found that this tool can really make reading the Bible way more exciting and help you understand some of those hard to read passages.
Social Media– Facebook, Twitter, Google+, and Pinterest to throw out a few are actually great ways to grow in your faith. Each platform opens up ways for you to share your faith with your friends. You can share a verse you liked from You Version and suddenly you can encourage 100 of your friends. Also, social media is a great way you can connect with others that feel the same way you do about God. Just make sure you're always careful about where you share personal info.
iTunes – this is an awesome way to encourage yourself in God. ITunes is packed with tons of great Christian artists who offer encouraging and uplifting messages about God. ITunes offers more than just music. Podcasts are a great free way to get encouraged. There are many podcasts out there to encourage and inspire your walk with God, like Studentdevos. Finally iTunes offers books that are reasonably priced. You are able to have tons of great Christian authors right at your fingertips. ITunes gives you lots of ways to grow spiritually as a teen
Money Tracking App – a way to track your money is a really important tool. Whether you have a job, or just have a few dollars from a birthday or Christmas, you should start keeping track of your money now. With just a few dollars you can open an account at a bank and begin tracking your money. Mint.com also offers a great way to set and track financial goals. No amount of money is too small for you to start putting into place good habits. Make it a habit to start giving now. Give to your local church and watch how much God will bless you as you give. Start good giving and savings habits now. The habits you put in place today will set you up for success in the future!
These are some technologies that if used can really set you up for success in the future! Check them out and let us know what ones you liked!