You're probably headed back to school soon if you haven't already. The journey back into the classroom brings all different kinds of emotions. Some students are excited. Other students dread going back.
Regardless of your feelings about going back to school, let's talk a little about learning today.
Instruct the wise, and they will be even wiser. Teach the righteous, and they will learn even more. – Proverbs 9:9 (NLT)
Much of your ability to learn centers around you choosing to not give up. Maybe you don't like the subject you're studying this year. That makes it hard to WANT to learn. However, even if the subject matter isn't interesting to you, realize that if you try, you CAN learn something. Even if you hate math, you can learn to develop character just by sticking with it and trying your best.
Throughout the rest of your life, you will always be learning. If you get a job, you'll constantly be learning how to do that job better. If one day you get married and have kids, you'll be learning all the time how to be a better parent. For the rest of your life, each day will be filled with learning.
Learning doesn't stop when you finish school. So determine to not give up when you're not interested or when things seem hard. Instead, realize that developing the ability to learn will help set you up for success in whatever God has for your future!
Today's Truth: Don't Give Up When Things Seem Tough
---
Pray: God, thank you for helping me develop a love for learning. I realize that I'll keep learning and growing for the rest of my life. Help me to find ways to develop a love to learn even when things seem difficult. Amen.
---
Things to Think About
What do you dread the most about going back to school?
Are there any strategies you can come up with to help yourself stay engaged, even when the course material doesn't interest you?
How can you encourage yourself to not give up, even when things are tough this year?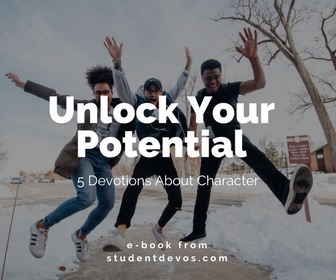 Unlock Your Potential – 5 Devotions About Character