Until I come, devote yourself to the public reading of Scripture, to preaching and to teaching. – 1 Timothy 4:13 (NIV)
As you go to set goals this year, one to consider is are you making time in your life for Bible study? There are lots of ways to study your Bible, but the goal is to read it and get to know God through it.
There are lots of ways you can read the Bible. You might find that you learn a lot when you go to your youth group at church, hear the reading of the word, and talk to friends that are believers. It's possible that you enjoy listening to a Bible app on your phone, or really enjoy reading your paper copy of the Bible. Regardless of the method, as a Christian, you should be getting into your Bible.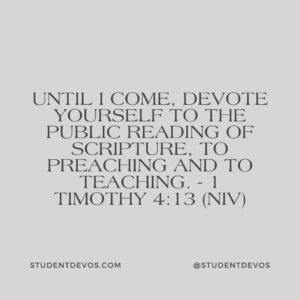 Also, consider reading through the entire Bible this year. Lots of times, it's easy to just read the sections of the Bible you like and that bless you. And while that's great, you should challenge yourself to read the whole Bible all the way through. Yes, there will be some passages that are challenging to read, some you might not understand, but reading through the entire Bible does really help you get a better picture of God and His plan on the earth.
Each day, determine to set aside some time to read your Bible. Developing a habit of reading the word will help you grow in your walk with God and know Him better. That should be our goal as Christians, knowing our creator.
Goal #4 – Am I Willing to Read My Bible?