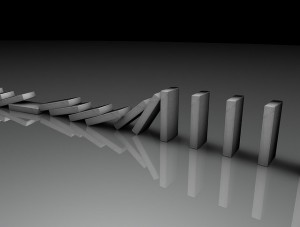 I remember playing dominos as a kid. I hated actually playing the game by the rules. Instead, I loved setting up all the dominos in a row in all sorts of fun patterns. Once I had the dominos set up, I'd knock the first one over and watch as the first one knocked over the second, the second knocked over the third. On and on the knocking over happened until all the dominos fell down. Knocking over dominos is really fun. Playing with dominos reminds me a lot of a scripture I recently read.
For whosoever shall call upon the name of the Lord shall be saved. How then shall they call on him in whom they have not believed? and how shall they believe in him of whom they have not heard? and how shall they hear without a preacher? And how shall they preach, except they be sent? as it is written, How beautiful are the feet of them that preach the gospel of peace, and bring glad tidings of good things! – Romans 10:13-15
Each part of this scripture is like a domino. You've got to have one to knock down two, to knock down the third and so on. So what are these dominos?
Domino One – To get saved you have to call on the name of the Lord. This one is pretty simple and straight forward, but how do you know to call on Jesus?
Domino Two – To call on Jesus you have to believe. It makes sense, you have to believe in Jesus, believe that He is God's son to call on him for salvation. But how do you begin believing?
Domino Three – To believe in Jesus, you have to hear about Him. If you haven't heard about Jesus, then how would you know that you should call on him, or believe in Him? You wouldn't. You've got to build belief in Jesus by hearing about Him. But how do you hear about Jesus?
Domino Four – To hear about Jesus, someone has to tell you about Him. If someone didn't tell you about Jesus, most likely, you would have never made a decision to believe in Him or call on Him for salvation. So finally, how does someone tell others about Jesus?
Domino Five – Those who tell others about Jesus are sent. The Bible tells us in Mark 16:15 that we are to go into our world and tell others about Jesus. As believers, we are called by God to tell others about who Jesus is.
So take some time this week to think about this scripture. You've been called by God to tell others about Jesus. You are called to preach to people the message of salvation. As you tell others, they will hear the message, then they have the option to believe and finally call on Jesus to be saved. But the process starts by you telling people about Jesus. If you don't open your mouth, then other people won't have the opportunity to hear the gospel. Its up to you to share with those around you. You sharing salvation with those around you, can cause a great domino effect. You could cause someone you know and care for to get saved and to spend eternity with Jesus.
So what are you waiting for? Begin sharing Jesus with others today!
Similar Teen Devotion Topics