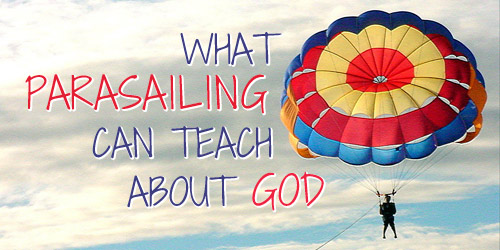 I've never been parasailing but I've heard it's pretty fun. However, I've heard that if you think your in for a wild jostling adventure, you're wrong. My wife explained to me that when you parasail, it's a slow long, smooth ride where you go up and down slowly. It's meant to be a ride where you relax and let the sail take you up to see all the sights around you. The parasail has a harness and a swing mechanism that safely holds you secure while you go several hundred feet in the air and back down.
I have a friend that went parasailing and he thought it was his job to hold on to the ropes above him so that he wouldn't fall. From the time the parasail first left the boat to the time it came back, my friend held all his weight with his arms. The other people who went with him were all laughing and relaxing while he was grunting and squeezing the rope with all his might. When the parasail finally came back to the boat, this guy collapsed on to the boat completely exasted.
This is a lot like how our we can treat our relationship with God. God designed a relationship with Him to be peaceful and fulfilling. Yet, we can often try and muster up strength to serve Him on our own. We feel we have to hold ourselves up, to feel worthy of His love and forgiveness.
What we need to remember is that the whole reason we are able to be in the presence of God even for a moment, is because of Jesus. We can relax and trust Jesus that His sacrifice is enough. His dying on the cross and being raised up for us worked so well, we can completely trust and rely on His ropes of life to hold us through the ride of life.
Check out this Bible verse.
This verse says that when we trust in God and keep our minds settled on Him, we will have peace.