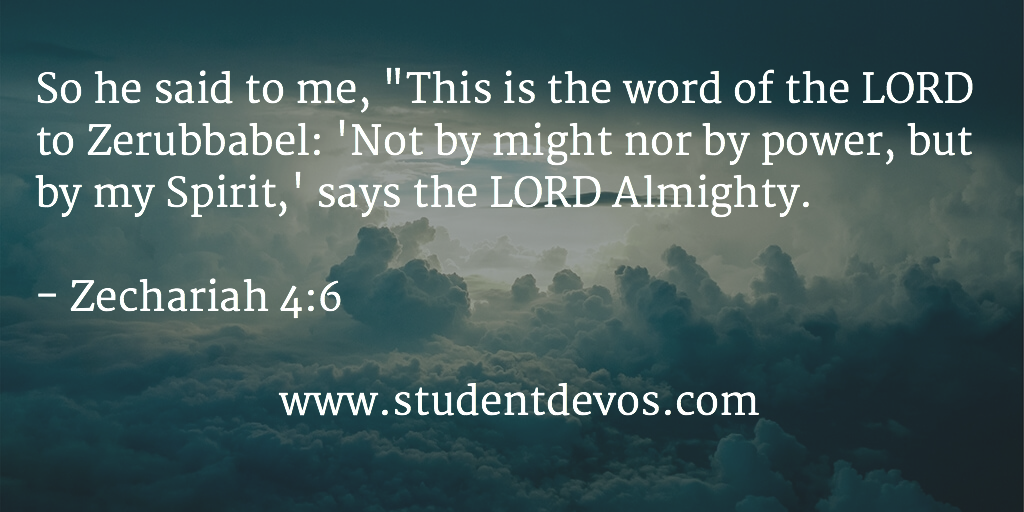 Today's Daily Devotion and Bible Verse is Zechariah 4:6
So he said to me, "This is the word of the LORD to Zerubbabel: 'Not by might nor by power, but by my Spirit,' says the LORD Almighty.
God never designed us to do things independently of Him. He designed us to know Him and out of that relationship, accomplish great things with His strength working in and through us.
That's what this verse is saying. Zerubbabel was challenged not to fight a battle like normal nations using force and power but to trust God. They were believing God that He would work on their behalf in a powerful, supernatural way.
God wants the same for us. Instead of just jumping out and accomplishing what you need to alone in your own strength, God wants you to get Him involved in your situation. He has a better way to accomplish what you need. It's better than you can do on your own.
This doesn't mean that we sit and do nothing, waiting on God to move us to try something. What it means is that when we step out and move forward, we are listening to Him and His direction so that when He speaks to us or gives us an idea, we follow it no matter how weird it might seem in the natural.